After you have practiced the GIF making process on a clip of a western movie you like do not care about, now you get to make a similar set using a YouTube clip you select. But the topic for this one has to make a statement or represent metaphorically the NetNarr course theme of This Digital Life.
So think about our discussions and your views of Do Not Track, the resources in the Referencium, or even a revisit the Black Mirror Nosedive episode we studied through memes. Get creative on how you might represent your viewpoint on these issues through an animated GIF.
Try to develop some metaphors or associations with movies or shows you know that might have possible clips in YouTube. Zero in on a clip.
For example, you might be thinking about the idea of being watched; perhaps the Hitchcock movie Rear Window where Jimmy Stewart's character was obsessed with what he thought he saw his neighbor doing while spying on him with a camera. This clip has a lot of scenes of the character looking through the camera:
Again we use the Giphy GIF Maker to create a This Digital Life animated gif.
After finding the clip you want to use, paste in the GifMaker form field. In the next screen use the controls to select a portion of the video to make into a GIF. You can select up to ten seconds of any video clip to generate as a GIF (3-5 seconds is a better length to keep the file size smaller).
For the Rear Window example, there is a great sequence of Stewart's character's eyes looking up, as if he might be wondering if this is the right thing to be doing… but he cannot stop himself.
Use the bottom slider to select the start time of the GIF and the bottom one to pick it's length. The preview will show you the loop for just this selection. Aim for the shortest length possible but also that makes use of the looping point to emphasize something important in the clip.
Click the Continue to Decorate button to add a caption or message to this GIF.
When you are satisfied, click Continue to Upload to generate your new GIF. Review, maybe add a netnarr tag, make sure the public option is on, and click Upload to Giphy.
Once your GIF has been created you will see it has its own URL (example) and a set of options for downloading or sharing in social media. Make sure you use the URL of your creation when you enter your response to this Make.
Now go back, and make a second one but in this GIF, do not add any caption text. What can you suggest or indicate with the looping video only?
In the vein of being watched, there is a clip of Eyes Wide Shut where Tom Cruise's character walking down the street notices he is being followed.
We can use that clip in GifMaker to pull a part of the scene that suggests this but of paranoia.
In your response share some of the reasons that you chose a segment and what you imagined happening. What are you able to communicate? Use either GIF link for the example in your response, and make sure you include the URL to the second GIF in your response.
This example has done two different GIFs from two difference movie clips about the theme of being watched: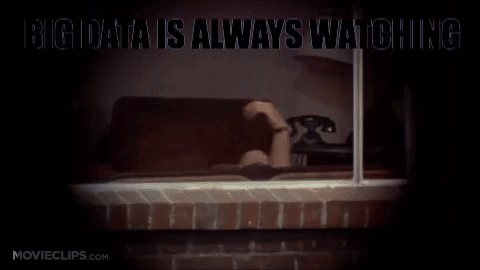 and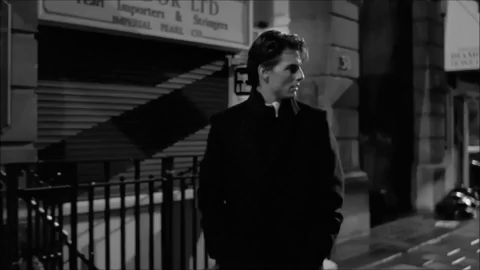 It's easier to be more literal with a caption; which do you prefer?
Example for "This GIFfed Digital Life":
https://giphy.com/gifs/1dc3Q4k79IJtwN8Xhz